(2003) B.A. in Communications, Boise State University
(2004) Kanakuk Institute
(2007) M.A. in Youth and Family Ministry, John Brown University
(2012) Certified Centurion, Colson Center for Christian Worldview
(2014) Certified Biblical Counselor, Association of Biblical Counselors.
Adam is extremely passionate about maximizing the potential within each and every individual that steps foot onto Link Year's campus. He has been speaking across the Nation and World for the past 10 years showering his passion for Jesus upon others. He holds an active role in the teaching aspect of Link Year.
He is dreaming about raising a remnant of young leaders to change this nation for Christ. Aside from Link Year, Adam's greatest passion in life is his family. First, his wife, Stephanie, and his sons Aiden and Anders.
"Some of us dream of doing great things for God, others wake up and do it!"
Vice President of Operations
(2006) B.A. in Business Finance, Texas A&M 
Adam Martin is  Link Year's VP of Operations.  He helped start Link Year in its inaugural year and served as the VP of Operations for the first three years. In 2014, Adam took over as the Executive Director of AfterDark, an event which shares the Gospel on college campuses around the nation, through a concert and Joe White's cross builder presentation until the Spring of 2017. He is excited to be back serving Link Year and discipling students. He is very happily married to his wife, Katlyn, and together they have two son's, Trent and Truett, and a daughter, Tess.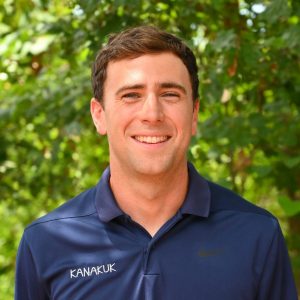 Garet West
(2014) B.A. Mass Communications, Ouachita Baptist University
Garet was born in Bolivar, MO. Before joining the Link Year Team, Garet work for Kanakuk's After Dark team!  This allowed Garet to pursue his love of mentoring and equipping college students to impact the World for Christ. 
Phil 3:8
request a Viewbook today.